Huntington Bank Stadium Information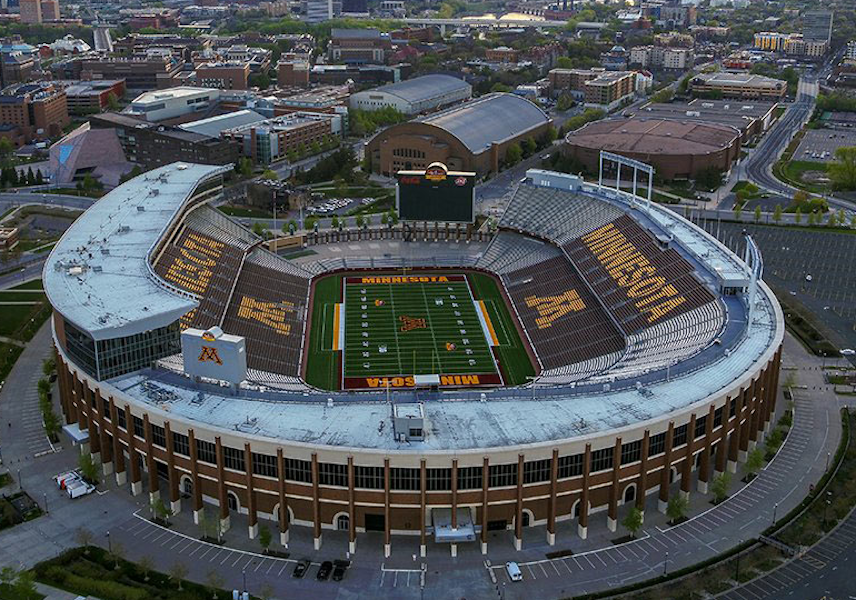 TCF Bank Stadium is an outdoor stadium located on the University of Minnesota Campus in Minneapolis, Minnesota. When it opened in 2009, it becamse the first new football stadium in the Big Ten Conference since 1960. The stadium serves as the home for the Minnesota Golden Gophers and was the temporary home of Minnesota United FC of Major League Soccer as well as the NFL Minnesota Vikings. The stadium features a unique horseshoe style stadium that seats 50,805 spectators and had a final cost of $303.3 million to build. The stadium also has some expansion possibility that can lead up to 80,000 available seating.
When it was built, the stadium boasted the largest home locker room in college or professional football and claimed one of the largest video boards in the nation. The main HD video display in the stadium measures in at 48 feet high and 108 feet wide with Daktronics HD-16 technology making it the first of its kind within the conference. The stadium also features a massive private recruiting room that can accommodate up to 150 persons comfortably. It was also the first LEED certified college football stadiums in the country for its accumulated credits for environmentally and sustainable efforts in design and construction.
When professionals saw the stadium upon completion, reactions were nearly universally positive. This included Super Bowl winning coach and former Golden Gophers quarterback Tony Dungy who called the stadium "unbelievable", Pro Football Hall of Famer Cris Carter who said it "will give the University of Minnesota a chance to compete not only in the Big Ten but nationally for some of hte best athletes."
It's no small wonder why TCF Bank Stadium remains a permanent fixture on the collegiate sports map.
Further information on TCF Bank Stadium:
Ticket Policies:
Read about the ticket policies and authenticity guarantees for tickets purchased via this website.
TCF Bank Stadium Seating Chart:
View the TCF Bank Stadium seating chart and seating options.
TCF Bank Stadium Parking:
Find out more about parking and driving arrangements at the TCF Bank Stadium.